Rothenburg ob der Tauber — or just Rothenburg odT — is a charming town along the famous Romantic Road in Bavaria, Germany, halfway between Munich and Frankfurt.  Step in to its fairy tale town centre, encircled by a miraculously undamaged town wall, and you'll think you've been transported to a Grimm's Fairy Tale.  Back in its heyday it was a major city with a population of 6,000, larger than Munich and Frankfurt.  Today it's a small medieval town — one of the best preserved in Europe — and a huge tourist attraction that's popular with bus tour groups.
A little history
The town has an interesting past and the good fortune of having been spared from destruction several times.  In 1274 King Rudolf of Habsburg declared it a Free Imperial City under the direct jurisdiction of the emperor.  Rothenburg is also amongst the destinations of the Holy Blood pilgrimage.
One reason why it is so well-preserved is that following the Black Death in 1634, the lack of money and power ceased development.  In the late 19th century, the town was rediscovered, tourism grew, and laws were created to prevent drastic changes.
Another reason is that Rothenburg was the epitome of the German home town for Nazi ideologists, representing everything quintessentially German.  The Kraft durch Freude (Strength through Joy) organisation ran regular day trips to the town, an effort supported by its citizens who were in favour of National Socialism for the economic benefits and German ideology.
During World War II, German soldiers were stationed here to defend it.  The local military commander ignored Hitler's order for all towns to fight to the end and surrendered, saving it from complete annihilation.  On the other side, the US Secretary of War who knew about the beauty and significance of Rothenburg ordered the Army General not to use artillery in taking the town.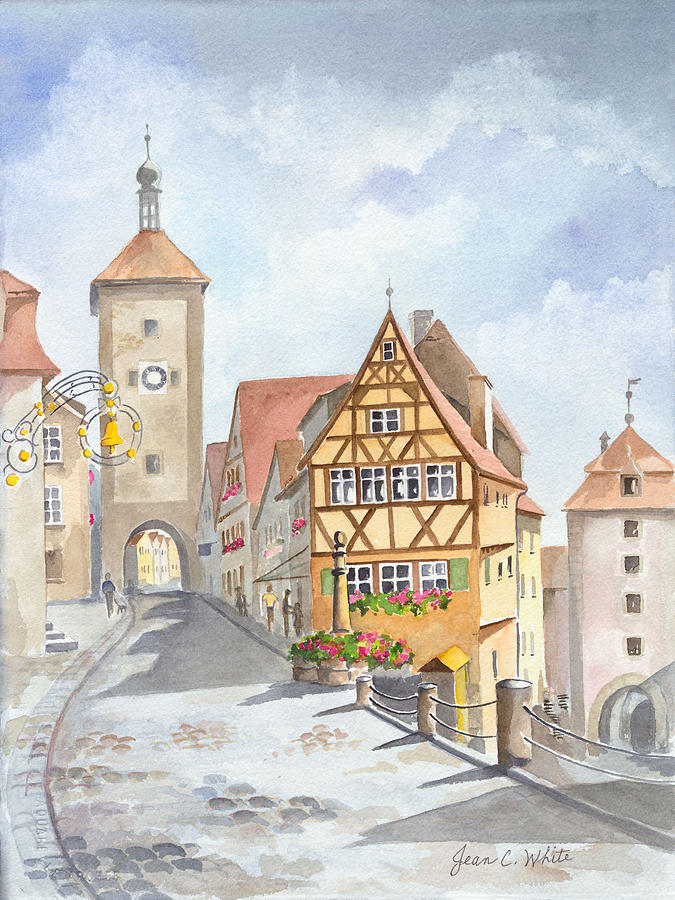 To rebuild the town after the war, the residents came up with a brilliant idea to collect donations — donors would have their names and hometowns commemorated in stone bricks in a section of the town wall.
Getting around
The best way to get around is to walk, walk, walk — it takes only 20 minutes or so to get from one end of the town centre to the other.  You can drive but not all areas can be accessed by car, so just park and get some fresh air.
Where to stay
There's a lovely bed and breakfast just a minute's walk beyond the north-western part of the town walls.  Hotel Klingentor Garni is run by an older couple at Mergentheimer Strasse 14.  For about 75 Euro, we stayed in a very clean, comfortable and spacious double room on the top floor with an en-suite bathroom including a shower and bath-tub!  The price also covers a generous breakfast, free parking and bike rentals.  Despite the freezing temperature outside, our room was kept warm and cosy.  The best thing about this B&B is the service — Mr. and Mrs. Wagenländer are very friendly and happy to help where they can.  Staying here is like staying with your grandparents!
Things to see
Experiencing Rothenburg ob der Tauber for the first time was magical — we were introduced to the town centre by moonlight on the Night Watchman Tour, after which it began to snow!  I really wish I knew how to take good night shots so I could share a photo that does it justice, but I don't so you'll have to harness the power of your imagination instead.
The Night Watchman Tour
At 8 o' clock every night (for 7 Euro), a guide dressed as a medieval watchman takes you on an hour-long walk covering a small area.  It starts from the marktplatz, or Market Square, and continues down Herngasse, where you'll pass the Käthe Wohlfahrt Christmas shop selling all kinds of kitschy Christmas things, and the beautiful Franciscan Abbey, which is the town's oldest church.
You'll then be taken out through the western town gate complete with a "man hole", to a garden with a great view of the outer areas of town, then back in again towards the marktplatz, this time past a 1,100 year old tavern called "Hell" (Zur Höll).
Dinner
Go on, ask me where to go for a good time and I'll say, "To Hell"!  Joking aside, we were told that Zur Höll is quite pricey and for a good meal we're better off dining at Weinstube zum Pulverer (wine bar) on Herngasse.  I can back up that recommendation.  For less than 7 Euro (cheaper than the Night Watchman Tour) you can get a plate of sausages with sauerkraut.  Try their specialty, the cheese soup served in bread.  It's delicious although for 5 Euro it's a modest portion and a good part of the soup gets absorbed into the bread.
St. James Church
The beautiful building is a Lutheran church that serves as a church on the pilgrimage route to another St. James Church in Spain.
The western gallery houses the Holy Blood altarpiece by Würzburg sculptor and wood carver Riemenschneider.  In the nave, the great organ has 5,500 pipes, six manuals, two consoles, and a partridge in a pear tree.
Rothenburg specialties
A Schneeball — or "snowball" in English — is a German specialty made from hard dough rolled into a ball, deep fried and traditionally dusted with sugar.  Nowadays toppings are a tad more creative — chocolate, nuts or even marzipan filling.  This healthy treat has been around for at least 300 years in the Franconia and Hohenlohe regions.  In the past it was served only on special occasions, but these days they're available throughout the year, thanks to the tourists who snap them up as souvenirs.  Personally I'm not too fond of them; they're quite bland and unexciting.
The Medieval Crime and Punishment Museum (Kriminalmuseum)
Just south of Market Square is this delightful museum filled with old torture instruments, including masks of shame, a "witch-catcher", chastity belts.  There's also everyone's favourite iron maiden, which it seems is fictional.  It was possibly styled after a mantle of shame, not meant as an instrument of death, and there were no spikes.
Touching a witch was considered dangerous, so a nifty device aptly named a "witch-catcher" was used:
Approach said witch with the neck-iron facing the neck.

Open neck-iron to fit neck.
Snap neck-iron back into place.
Voilà!  Your witch now cannot escape!
Rothenburg odT is a wonderful town that's worth a visit and at least an overnight stay.  Some prefer Dinkelsbühl or Nordlingen as they're less touristy and almost smaller versions of Rothenburg.  Now, I have not been to the other two towns, but I had no problems with tour groups, perhaps because it was March and the first week of spring.
From here, Füssen is a 2-hour drive south and that will take you to the iconic Neuschwanstein Castle, better known as Sleeping Beauty's Castle.